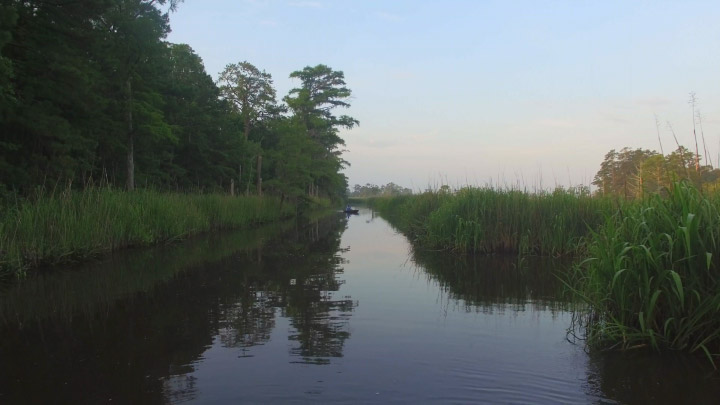 scroll
Woodland Period of Native American history leaves ample evidence at Hobcaw Barony.
King Charles II grants the Lord Proprietors the charter for Carolina in the American colonies.
English/Native American trading post established at Hobcaw Barony.
Hobcaw is sold and divided into rice plantations. Enslaved laborers produce millions of pounds of rice.
Civil War and abolition of slavery lead to decline of rice production. Freedmen's Bureau established.
Bernard Baruch buys all 16,000 acres of Hobcaw. Entertains the rich and famous. Locals work for him.
The U.S. declares war against Germany. Wilson makes Baruch chairman of War Industries Board.
WWI ends. Baruch joins Wilson at Paris Peace Conference. U.S. refuses to ratify League of Nations.
Belle Baruch turns 21, inherits a million dollars and begins to spend much of her time in France.
Baruch's fortune survives the stock market crash. Hobcaw home burns, Baruch builds Hobcaw House.
Winston Churchill, a close friend of Bernard Baruch, visits Hobcaw Barony with his daughter, Diana.
Baruch serves as an advisor to Franklin D. Roosevelt and becomes a close friend of Eleanor Roosevelt.
Bridge is built across Winyah Bay and African Americans start to leave Hobcaw for better jobs and lives.
Baruch agrees to sell part of Hobcaw to his daughter, Belle. She begins construction of Bellefield.
Japan attacks Pearl Harbor and U.S. declares war. Baruch assists with industrial production for the war.
President Roosevelt spends the month of April at Hobcaw Barony to rest and recover his health.
Prince Jenkins, the last African American living on Hobcaw, leaves, but continues to work for Baruch.
Belle Baruch dies at the age of 64. Her will establishes the Belle W. Baruch Foundation.
Bernard Baruch dies at 94. Clemson University founds the Belle W. Baruch Forest Science Institute.
USC creates the Belle W. Baruch Institute for Marine & Coastal Sciences. John Vernberg is director.
Formal conservation of African-American historic sites and structures at Hobcaw begins.
The Baruch Foundation celebrates its 50th anniversary. SCETV begins production of Between the Waters.